The mermaids in the sims 4 are a new race with new needs, but it's not easy to become one. Well, how to become and where these mermaids came from is described in this guide for the sims 4.
Where are the mermaids in the sims?
Mermaids came from the addition to the Sims 3 "Paradise Islands", and since the idea of EA seemed successful, these mystical creatures were added to the fourth part. Initially, the scale of "hydration"distinguishes mermaids from the usual SIM. It is replenished by swimming, showering, and other water-related activities. Note! When interacting with water, mermaids change their legs to a tail. They can also breathe in it indefinitely.
How to become a mermaid.
There are several ways to do this:
In sims 4, you can create a mermaid via cas. This race can be found in the list of occult characters. Note! There are several tail options available in the editor.
During the exploration of the island of MUA PEL'am there will be an event as a result of which you will get special algae
When exploring the beach and diving, there is also a chance to get this " treat>>
More mermaid seaweed is available for purchase in the rewards store for 500 points. ! if you accidentally ate them and do not want to change, eat another seaweed within 4 hours or change the race via the console
What are the differences between mermaids?
In the sims 4, mermaids have an abundance of abilities, they spend the same scale of moisture. Here's what's available to us: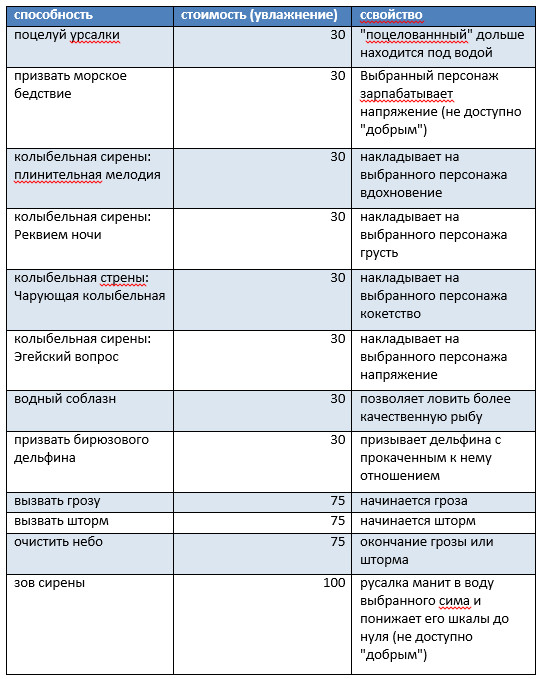 Worth adding more:
An opportunity to feel like an Aquaman while talking to a fish.
By developing fitness, you will increase your swimming speed
Your SIM will mourn stuffed fish
Tanning is possible in the ocean
There is a function of imitating dolphins In addition to your SIM, there are other representatives of the sea people. They can be calculated by their strange behavior near the water, but they will only give an answer to your question on the pumped-up level of relations. Or you can blow a special horn (only mermaids will react to it)
How to replenish moisture.
To fill in the main scale of mermaids there are options:
swim in the ocean
swim in the pool
take a bath (mermaids take a bath in water form)
take a shower
stand in the rain
lie in the Jacuzzi
drink a glass of water
wash your hands
brush my teeth
Whether children will be mermaids / mermaids.
If both parents are mermaids, then the descendant will be of their race. But if only one parent belongs to the sea people, then you may have: Note! The nature of the child does not manifest itself until adolescence
man or mermaid (50/50)
here there are chances of becoming a child vampire, mermaid or hybrid.
The situation is the same as with the vampire mermaid
Mermaid-vampire-alien, better not, and then SIM will not stand
The magician mermaid (50/50) How subspecies can be noted:
Mermaid-polytrichales (polytrichales eat algae)
Ghost mermaid (dead mermaid)
How to stop being a mermaid.
There are two ways:
Within 4 hours after the first dose of algae, eat the second.
Ctrl Shift C, enter Testingcheats true, enter Traits.remove_traittrait_OccultMermaid.
Result
Rusalka is an interesting race with its own bonuses and abilities, as well as its own needs in the form of a "humidification"scale. It is a great option for friendship or Alliance with an artist, cook or diver. It is not easy to become one, but bonuses calmly cover this moment. And the hybrid system makes it possible to collect who knows what. Play for a mermaid or not is everyone's choice, but still, those who need bonuses should think about finding a partner-a mermaid or getting algae. #sims4 #simulation #Interesting #HD
Steam Helper by U LIVE is an app where you can watch our awesome streamers playing your favorite video games: Minecraft, WoW, Dota 2, PUBG, Fortnite, LoL, CS:GO and more. Enjoy hundreds of walkthrough videos, strategy guides, cheats and tips.